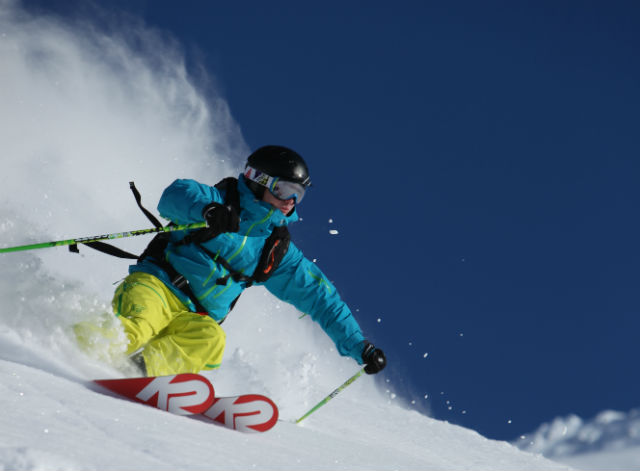 These days, on mountains all over the world, you can't help noticing how many skiers and boarders have a GoPro attached to some part of their body.  We've become obsessed with digitally recording ourselves … and there's nothing wrong with that as far as we're concerned at Bighorn.  The breath taking vistas and snow conditions here at Revelstoke lend themselves perfectly to shooting incredible footage of your ski adventures.  So move over Warren Miller, here's a few tips to ensure you actually record the memorable images you want (rather than a long bumpy video of your ski pants)!
Where to mount the camera?
Helmet mounts:  a unique viewpoint from your own perspective – but make sure you mount it near the front (not on top).  Before you put it on your head, angle it down slightly.
Chest mounts:  work equally well for skiers, not so much for boarders as they are often standing sideways on, unless of course you just want to shoot your friends skiing.
Boot, board or ski mount:  provides a unique angle to show the view of the ski or board as it moves or you can invert it to show the skier.  The only issue is the adhesive doesn't tend to last long in very snowy conditions and damage is more likely with it being so close to the ground.
Ideally to get the best varied footage, use a combination of the above.
Filming your ski buddies? With the GoPro's wide field of view, it's best to get as close as possible to the action, ideally no more than a couple of metres away and aim the camera at the middle of the person, keeping their head to toe in shot.
Which resolution? (i.e. the number of pixels). Whilst it's tempting to go for the highest res, unless you really are planning on being the next Warren Miller, 720 is actually good enough for most computers and will save you memory space whilst making editing much easier.
Anti-Fog Inserts. The conditions can be cold and humid on the BC terrain leading to a fogged lens.  GoPro has the answer with anti-fog inserts that protect your lens from fogging up.
Battery Packs. Even if you fully charge your battery before you spend the day heliskiing, your charge may not last the entire day, so bring a spare battery pack or two.
Get the GoPro App. It makes it really easy to control the settings and preview your amazing powpow shots from your phone.
Do a test run with your trusty GoPro to check you've got it set up properly before your head off on one of the best powder descents you've ever done (speaking from experience!)
Finally…sit back and relax at the end of the day with a well deserved drink in hand to watch your amazing powder adventures in HD in the Bighorn cinema.
…and cut! That's a wrap, folks!