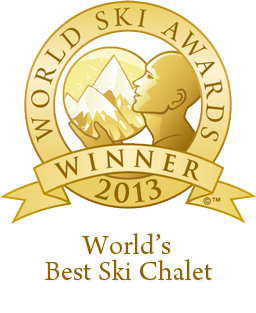 We are pleased to announce that Bighorn was voted not only Canada's Best Ski Chalet, but the World's Best Ski Chalet at the World Ski Awards. The prestigious ceremony took place in Kitzbuhel, Austria last week and was attended by ski industry VIP's from around the globe. Bighorn beat stiff competition from luxury properties in 20 countries including France, Switzerland and the USA.
Bighorn's founder was in Austria to accept the award, click here to see his reaction
Our decadent lodge has unrivalled accommodation and facilities as well as outstanding cuisine and service from a dedicated team of staff. Bighorn also has a private helipad from which guests can fly directly to the renowned heli ski terrain of the Selkirk Mountains. Heli skiing is complemented by superb lift skiing at Revelstoke Mountain Resort.
Congratulations to our hardworking team who make staying at Bighorn a unique and now award-winning experience!