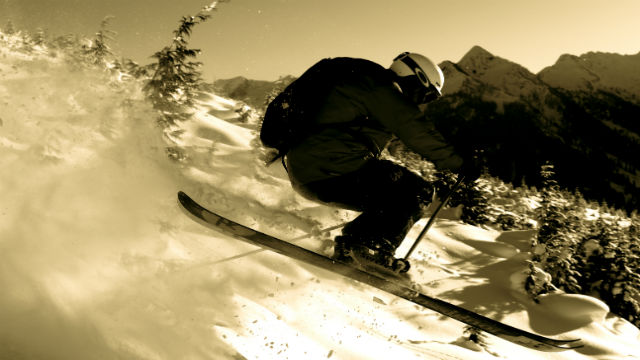 Heliskiing is the ultimate thrill for any avid skier. Unsurprisingly this comes at a price, so careful consideration is required when deciding where to go for this indulgent trip of a lifetime. We asked one of our experienced guests at Bighorn to discuss the risk reward profile of two of the best heliski destinations in the world: Valdez in Alaska and Revelstoke, BC.
1) Terrain
Alaska has the best steep skiing terrain in the world. The proximity to the coast and extreme cold throughout much of the winter create a very low risk of avalanche. This allows skiers to ski terrain as steep as 60 degrees. Revelstoke has the best tree skiing in the world, and also has an abundance of excellent high alpine skiing in large glacial bowls. The terrain is extremely varied but, on average, will not be as steep as Alaska.
2) Snow
Both Alaska and Revelstoke are snowsure places to ski, the difference is the quality of the snow. As Revelstoke is located away from the coast in the interior of British Columbia, the snow has less moisture and is lighter. In Alaska, proximity to the coast means the snow can be wetter and heavier.
3) Down Days
This is the major difference. A week of heli skiing in Alaska will typically on average have 3 down days, Revelstoke will on average only have 1. In Alaska, when you cannot ski, there is very little to do as there is no lift skiing. There is only so much table tennis one can play in the mountains. In Revelstoke, guests at Bighorn can experience the all new Revelstoke Mountain Resort, which provides the perfect alternative to heli skiing. Boasting the longest vertical drop in the whole of North America, it is the perfect antidote to being told you cannot fly. In the wider Revelstoke area there are also a number of cat skiing operations which operate irrespective of the weather. In short, there is never a zero ski day in Revelstoke.
No one can argue against the fact that Alaska has excellent ski terrain. Every real skier should tackle an Alaskan spine at some point in their life. However, to travel so far, and then not to ski is unthinkable. It happens. Revelstoke provides endless options for amazing skiing whatever the weather, and with the addition of Bighorn, can boast the ultimate in luxury ski accommodation and service.