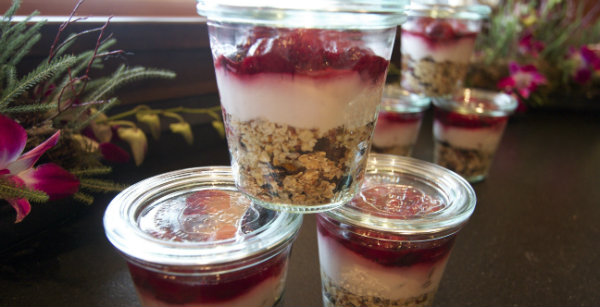 We all know breakfast is the most important meal of the day, never more so than if you are fueling for a day skiing Revelstoke's epic powder. At Bighorn a sumptuous breakfast buffet is laid out each morning, with hot items cooked to order. As part of this feast, the executive chef Peter Hughes has created the ultimate muesli to energise skiers through until lunch. Healthy, nutritious and full of  goodness, we serve it each day topped with really good yoghurt and fruit compote that we make with fresh berries and a reduction of crème de cassis.
The following recipe will keep in an airtight container for up to four months so you can batch prepare and have a tasty, healthy, energy packed, low GI breakfast for the season. Use the best quality ingredients you can find and if possible use organic dried fruits and seeds. The recipe will transform very easily into Bircher Muesli by the addition of grated apple, yoghurt and honey and soaking overnight so that the dry fruit softens and become plump and juicy.
500g Jumbo Rolled Porridge Oats (drizzled with honey and roasted for ten minutes and allowed to cool before adding the other ingredients)
300g Hemp Hearts
300g Pumpkin Seeds
300g Sunflower Seeds
300g Thompson Raisins
300g Dried Mango (finely chopped)
300g Dried Pitted Prunes (finely chopped)
300g Dried Apricots (finely chopped)
150g Dried Cherries
150g Dried Cranberries
150g Dried Blueberries
150g Dried Goji Berries
150g Flaxseed
150g Milled Flaxseed
150g Cacao Nibs
So enjoy some health at breakfast and feel the benefit on the slopes!