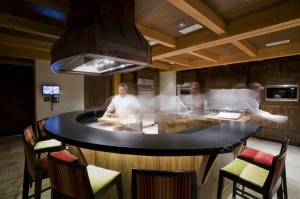 Allow us to introduce Peter Hughes, the Bighorn Executive Chef who is putting Revelstoke on the culinary map. We'll be posting regular notes from the Chef's Table at Bighorn, proving that ski fare can be innovative and delicious as well as satisfying after a day skiing the powder.
Focussing on local provenance and exciting flavor combinations, Bighorn cuisine is executed with flair and finesse.
To whet your appetite, here are the chef's secret menu ideas for breakfast this heliski season…
Mango and strawberry smoothies (or green apple, wheatgrass and carrot for those who need a boost)
Homemade granola with greek yoghurt made in BC, berries and berry coulis
Bighorn Sausages – a collaboration with Barry the Butcher in Revelstoke, we've made the perfect breakfast banger
Really good double smoked bacon with oven roasted tomatoes
Local sourdough bread toasted and topped with scrambled free-range eggs and a grilled portobello mushroom
Sweetcorn and bacon fritters with mild tomato salsa and poached free-range eggs
We say that is the best possible way to start the day. No boring cornflakes and congealed eggs in sight. Unless that's what you like of course, because remember Peter is on hand to cater for any (weird) whims!
Next week, we find out how Bighorn guests will be wooed, via their tastebuds, on Valentines Day.