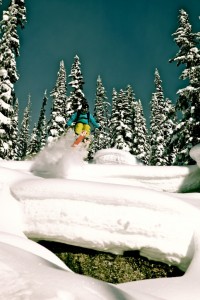 Do you want to know what 40cm of snow in 36 hours looks like? Check out this image of one lucky skier enjoying the epic conditions in Revelstoke.
After an huge dump at the weekend, cold weather has kept the powder fresh and fluffy and the resort is set for even more snow later this week. With 550cm of snow to date this season in Revelstoke, it does't get any better than this!
Bighorn is perfectly placed to make the most of the next dump of snow, with access to the back country from our helipad, or lift skiing from Revelstoke Mountain Resort right on your doorstep.
We still have some availability for our 'Open House' week from 4th February, with bookings being taken on a room by room basis. This is a unique opportunity to experience the luxury living at Bighorn without needing to book the whole house. Enquire now for more information on this fantastic offer.