As the Revelstoke heli ski season draws to a close, we have been looking through the Bighorn guest book and selecting some highlights. Bluebird days heli skiing in the A star, the romantic couple that took a private heli for 2, fresh tracks down Greely Bowl and face shots in the trees on Paradiso.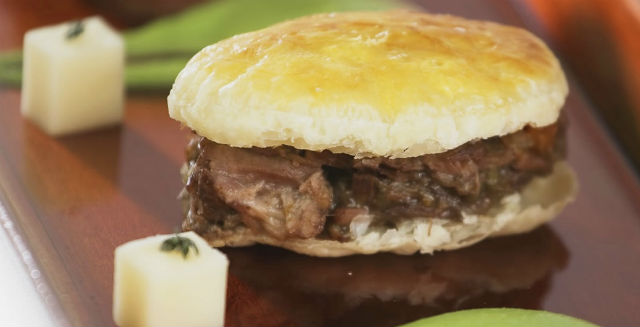 But at Bighorn the phenomenal skiing is enhanced by indulgent service and stunning accommodation. Chef Peter Hughes' cuisine has been much talked about, from the "Japanese feast cooked up in front of our eyes" to the "incredible beef fillet – the singular best thing I have ever eaten". One of the most commented-upon treats were the delicious Mini Boeuf Bourguignon Pies: "the ultimate apres ski beer snack".
As part of our Notes From the Chef's Table blog posts, we tell you the secret recipe to make them yourself – or book your trip to Bighorn to try them without the effort!
The ultimate apres ski beer snack: Mini Boeuf Bourguignon Pies
Ingredients
2 sheets pre-rolled frozen puff pastry
1 egg for glazing
1.5kg (3.5 lbs) of diced chuck steak or shin beef cut into 1/2 inch cubes
1/2 cup all purpose flour
1 cup finely diced onion
1 cup quartered chestnut or field mushrooms
1 cup finely diced smoked bacon (lardons)
1/2 cup finely diced carrot
1/2 cup finely diced celery
1/2 cup finely diced leek (white part only)
1/2 cup finely diced fennel bulb
1/2 cup finely diced shallots
1 tbsp butter
1/2 cup of finely diced fennel bulb
1/2 cup diced shallots
1 tbsp butter
1 bottle of good quality red wine
Preparation
In a large mixing bowl season the beef with flour, salt and pepper and set aside whilst you prep your vegetables.
Finely chop all the vegetable ingredients and smoked bacon and sweat gently in a heavy bottomed saucepan until translucent. Remove from saucepan and keep in a bowl to add later. In the same saucepan as you cooked the vegetables add the seasoned beef and sear whilst stirring continuously to get some good colour on the meat (remember colour is flavour and will make a big difference to the final result).
After ten minutes pour in the wine and marry all the remaining ingredients together in the saucepan. Bring to a simmer and stir every ten minutes for the first half an hour to avoid a sticky disappointment!
Once the 'gravy' has started to thicken and the beef starts to become tender stirring occasionally (this dish is a labour of love and the more you care for it the more you will be rewarded in the finished article) turn the heat down further until a gentle simmer can be sustained in the pan for a further two-three hours depending on the size of your beef if you'll pardon the expression! Towards the end add the small soaked cocktail onions and simmer for 30 minutes more. Total time simmering should be no more than 3 1/2 hours but if the boeuf still seems a little tough the simmer gently for longer.
Meanwhile in a preheated fan assisted oven at 180c or 350f cook pre-cut oval or round mini discs of pre-rolled frozen puff pastry on parchment paper or baking sheet glazed with eggwash until golden in colour. Allow to cool slightly (these can be pre-made and will keep at room temperature for up to a week in airtight containers).
Assembly
Take a sharp serrated knife and cut the pastry shapes horizontally to create tops and bottoms. Spoon in some of the Bourguignon and top with a lid and serve with beer and smiles!